History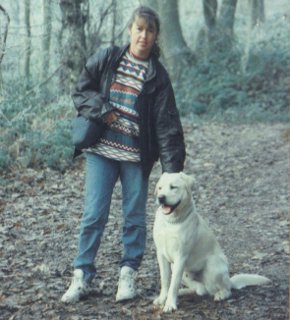 Jake
I purchased my first Labrador Kim in 1987; in 1992 I mated her to Greenworth Huntsman. Kim gave me a beautiful boy who I named Jake. Jake was a true companion and sadly died in Jan 2004.
Max joined me in 2004, and then Teddy mid 2005.
I tried my hand at showing Teddy for the first time in 2006. Teddy qualified for Crufts in 2008 and 2009. Teddy's main show achievement was a Reserve place at Crufts in 2009. He also achieved many first places at Open shows, several Best and Reserve Best of Breeds
In 2010, I was joined by my Mikki who provided my first litter of puppies at the end of 2011 and is the foundation of my breeding lines.
Membership of Clubs
I am the honarary treasurer for:
I am also a member of the following breed clubs:
Three Ridings Labrador Retriever Club
Judging
I also judge Labradors at open show level.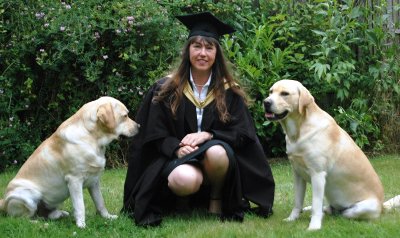 Left to Right: Teddy, Me and Max
Affix
My affix Kimbajak is derived from by first Labrador Kim and her son Jake. Coincidentally, in 2008 I obtained a Masters Degree (MBA) which is in the middle!