Carpenny Mikki at Kimbajak ShCM
(Stud Book No: 2065CX)
Mikki pictured after winning the brood bitch class at the Labrador Retriever Club Championship Dog Show, June 2017.

Mikki was judged alongside her offspring who are pictured, Left to Right: Henry ( Kimbajak Renoir), Annie ( Kimbajak Duchess Eleanor), Mikki, Lucy (Kimbajak Broadway and Libby (Kimbajak Liberty Lady)
| | |
| --- | --- |
| Mikki pictured with the Logie ( Carpenny Slogan), the sire of her puppies Annie and Henry. | |
Crufts 2011 - Mikki WON the special junior Labrador bitch class.


Many thanks to the judge, Mrs J Brabban (Cambremer) who awarded Mikki first place in the class of 18

Judges Comments: Lots to like of this yellow, femine head, nice eye, clean through
the neck and shoulder, good bone and feet, well sprung ribs and the best of toplines
which she held on the move, good coat and texture and she moves very well.
Mikki, aged 2, pictured in November 2011 at the end of a very sucessful year in the show ring.

During 2011 Mikki has won five championship show first prizes in the Junior & Yearling classes.

She has also been awarded best of breed at numerous open shows and gone on to be awarded a gun dog group place four times!
Cotswold and Wyevern Labrador Retriever Club Championship Show

6th July 2011

Mikki was placed second in the Yearling Bitch Class by Marion Hopkinson (Rocheby)

20 Entries, 7 Absent
Kent Surrey and Sussex Labrador Retriever Club Championship Show

2nd April 2011

Mikki won the Junior Bitch Class
17 Entries, 5 Absent

Photo by Sharon Rogers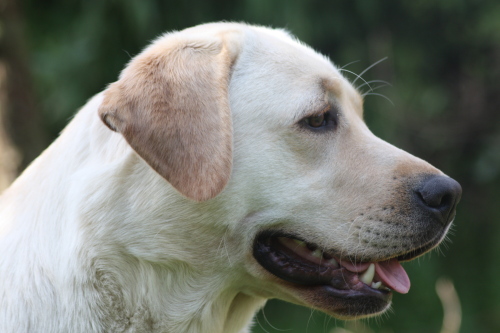 East Anglian Labrador Retriever Club Championship Show

5th March 2011

Mikki was placed 3rd out of 16 in the Junior Bitch Class.
Thank you to Penny Carpanini for allowing Mikki to come and join us here at Kimbajak.
Pedigree of Carpenny Mikki at Kimbajak Sh.C.M.

D.o.B. 23rd October 2009

Hip Score 1-1. Elbows 0-0. prcd-PRA clear. EIC clear

Parents

GrandParents

GreatGrandParents

Gr-Gr-GrandParents

SIRE


Sh Ch Suttonpark Manifesto JW

Best of Breed Crufts 2006

Hip Score 5:5
Ch Saranden Saboteur JW
Rocheby Old Smokey
Rocheby Navy Blue
Sh Ch Rocheby Polka Dot
Sarenden Salisha
Ch Cornlands Wellington
Sweet Marjoram of Sarenden
Mileoak Cranberry From Suttonpark
Suttonpark Fair Play
Rocheby Navy Blue
Play Time at Rocheby
Perdita's Promise
Sh Ch Stanjantors Dozer
Lady Heloise

DAM





Carpenny Far and Above



Hip Score 3:4
Lembas to the Moon and Back
Sh Ch Sandylands Gadabout
Ch Sandylands My Guy
Sh Ch Sandylands Bliss
Lembas Mysterious Girl
Trendlewood Take That
Jugaren Moonlight Melody at Lembas
Sh Ch Carpenny Rustina
Kamrats Rustibus(Imp. Sweeden)
Swe Ch Kamrats Magic Man
Kamrats Jazza
Sh Ch Covetwood Elouise of Carpenny
Ch Carpenny Bonhomie
Cranspire Careless Whisper
| | |
| --- | --- |
| | |
| Above: Mikki's Father - ShCh Suttonpark Manifesto JW | Above: Mikki's Mother - Carpenny Far and Above |