Kimbajak Precious Metal (Minty .. or Mint Chops)
Minty competing at Crufts in March 2020 where he was awarded second place in his class.
Minty aged 20 months, pictured after winning the post graduate class at the Labrador Retriever Club championship show, June 2019
&nbsp
Thank you to the judge, Lorraine Tooth ( Ludalor Labradors) for his lovely critique:
&nbsp
Yellow of super quality with more to come. Pleasing head, lovely expression. Good forequarters short coupled and well angulated rear quarters, moved true and straight. In very good coat.
&nbsp
Photo: Sharon Rogers
Minty competing at the United Retriever Club Championship Show, August 2018, aged 10 months.
&nbsp
Minty won his class and went on to be awarded best Labrador puppy dog
&nbsp
Photo: Sharon Rogers
Minty after winning the puppy dog class at the Leeds Chamionship Dog Show, July 2018.

He is pictured whilst the judge, Marion Hopkinson of Rocheby Labradors, writes her critique.
| | |
| --- | --- |
| | Minty competing at Blackpool Championship Show, June 2018 where he won the minor puppy dog class. |
Minty after getting second place in his class at the Southern Counties Championship show, sat beside Ginny who won her class.

His critique from judge, Chris Atkinson reads:

Kind in eye with good pigment, clean length of neck sound straight bone has spring of rib with length, happy and sound on the move.
| | |
| --- | --- |
| Minty and his sister Maddy pictured as puppies in spring 2018 | |
| | |
| --- | --- |
| Minty | |
| | |
| --- | --- |
| Minty - Rossette from East of England Championship Show 2018 | |
| | |
| --- | --- |
| Minty - Keeping Cool | |
| | |
| --- | --- |
| Minty Sometimes Sleeps | |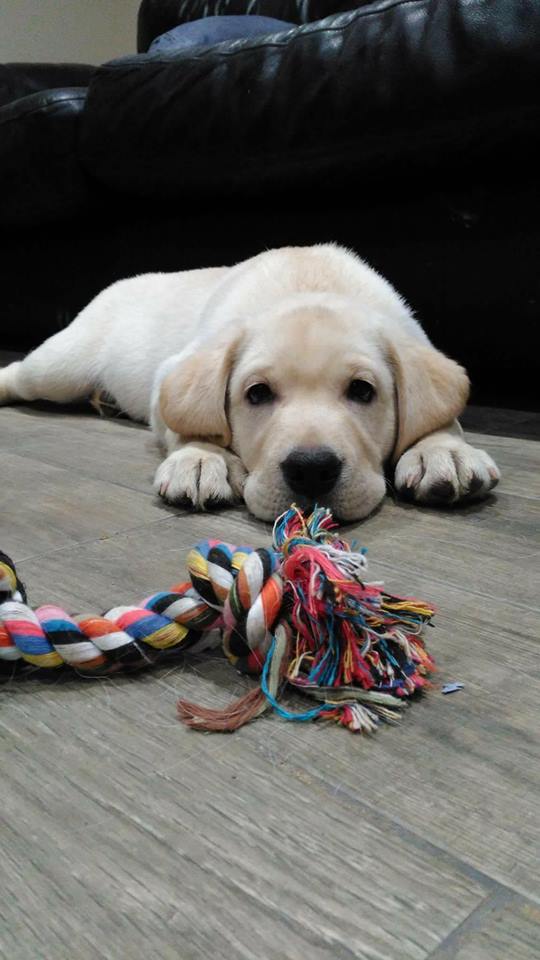 Pedigree of Kimbajak Precious Metal

D.o.B. 2nd October 2017

Parents

GrandParents

GreatGrandParents

Gr-Gr-GrandParents

SIRE


Show Champion Secret Moment at Alkhamhurst

Best Labrador Dog Crufts 2016
Reserve Best Labrador Dog Crufts 2017

Hip Score 2:4

Sh Ch Carpenny Made a Million

Reserve Best Labrador Dog Crufts 2010 & 2012

Hip Score 5:3
Int Ch Carpenny Made the Trip
Lembas to the Moon and Back
Sh Ch Carpenny Rustina
Norway & Swedish Ch
Sh Ch Mambrinos Spellbound of Carpenny
Int Ch Sh Ch Carpenny Walpole
Norway & Swedish Ch Mambrinos Lemony
Carpenny Spinning Wheel

Hip Score 3:5
Rockledge Wordsmith of Carpenny
Int Ch Sh Ch Carpenny Walpole
Rockledge Bramble
Sh Ch Carpenny Whist
Hawksmoors Webster
Sh Ch Carpenny Rustina

DAM


Carpenny Mikki at Kimbajak

Best Junior Labrador Bitch Crufts 2011

Hip Score 1:1

Sh Ch Suttonpark Manifesto JW

Best of Breed Crufts 2006

Hip Score 5:5
Ch Saranden Saboteur JW
Rocheby Old Smokey
Sarenden Salisha
Mileoak Cranberry From Suttonpark
Suttonpark Fair Play
Perdita's Promise

Carpenny Far and Above



Hip Score 3:4
Lembas to the Moon and Back
Sh Ch Sandylands Gadabout
Lembas Mysterious Girl
Sh Ch Carpenny Rustina
Kamrats Rustibus(Imp. Sweeden)
Sh Ch Covetwood Elouise of Carpenny